History of the Bavarian Academy of Sciences and Humanities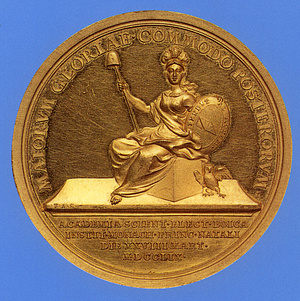 The Bavarian Academy of Sciences and Humanities is one of the oldest state academies in Germany with a history stretching back over 250 years.
The spirit of enlightenment led to an academy movement that spread across Europe. The first academies were private institutions founded by academics. However, ministers and rulers soon recognised the political and social benefits of these organisations. Maximilian III Joseph, Elector of Bavaria, was a patron of the sciences and humanities – and as such the spirit of enlightenment – in Bavaria. He founded the Bavarian Academy of Sciences and Humanities in 1759. The academy was tasked with making "all useful sciences (...) in Bavaria" the subject of investigation. The first major research projects got underway as early as the 1760s.
The scope of long-term research work in the natural sciences and humanities expanded rapidly in the 19th century. The academy initiated large collaborative projects, which were overseen by different commissions, often within the framework of international partnerships. After the Second World War, the academy significantly expanded its scope of research once again. In addition to a range of projects in humanities and the social sciences, the academy founded the Walther-Meißner-Institute in 1946 and the Leibniz Supercomputing Centre in 1962. The 21st century ushered in a number of key developments including the foundation of the Young Academy for developing young talent in 2010 and a structural reform of the academy in 2015.
Visit our timeline to find out about the most important milestones in over 250 years of academy history.
Click here for additional literature on the history of the academy.