Publications by the community of scholars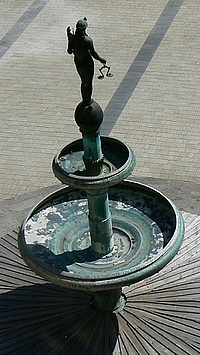 Community members attend regular section meetings to discuss their latest research findings. The academy publishes the proceedings of these meetings in the series "Sitzungsberichte" (meeting reports – presentation format) and "Abhandlungen" (treatises – monograph format).
Thanks to these two formats, you can find all publications by the community of scholars dating from 1759 in the respective series, regardless of whether you are looking for meeting reports, for example, originating from one of the current sections or from one of the historical classes (e.g. the History-Philosophy class).
We have converted all of the meeting reports to digital format (and are in the process of converting all the treatises) and have made them available free-of-charge on our institutional repository.
In its early days, the community of scholars also published "Jahresberichte" (annual reports), "Gelehrte Anzeigen" (scholarly announcements) and "Akademische Reden" (academic discourses), which we will also gradually make available online.
Historische Publikationsreihen
In der langen Geschichte der Gelehrtengemeinschaft gab es verschiedene Publikationsreihen, die wir online zur Verfügung stellen.
Akademischen Reden
Von 1761 bis 1959 unregelmäßig veröffentlichte Reihe verschriftlichter Vorträge. Umfasst neben wissenschaftlichen Vorträgen auch Fest- und Gedächtnisreden zu wichtigen Anlässen und bedeutenden Personen der Akademiegeschichte.
Jahresberichte
Die Jahresberichte, erschienen von 1807 bis 1833, waren zuerst als "Rechenschaftsablegung vor der Öffentlichkeit" gedacht. Sie enthalten vor allem Berichte über Vorgänge, Ereignisse und Entwicklungen an der Akademie, verfasst von den jeweiligen Generalsekretären.
Gelehrte Anzeigen
Die Gelehrten Anzeigen, veröffentlicht von 1835 bis 1860, vereinigen verschiedene Publikationsformate der Akademie, die von Informationen über die gehaltenen Sitzungen über verschriftlichte Vorträge bis hin zu Buchbesprechungen und selbständigen Aufsätzen reichen. Sie wurden gesammelt in Jahresbänden veröffentlicht. Von 1843 bis 1853 tragen sie den alternativen Namen Bulletins der Akademie. Sie wurden 1860 von den Sitzungsberichten abgelöst.
Sitzungsberichte
Seit 1860 bis heute veröffentlichtes Publikationsformat. Zuerst in gemeinsamen Jahresbänden aller Klassen, ab 1870 aufgetrennt in zwei Reihen, Philosophisch-historische Klasse sowie Mathematisch-naturwissenschaftliche Klasse, publiziert enthalten die Sitzungsberichte vor allem die verschriftlichten Versionen der in den Sitzungen der einzelnen Klassen gehaltenen Vorträge. Manchmal zusätzlich, manchmal stattdessen enthalten sie auch kurze Zusammenfassungen der Vorträge (Summare), von Zuhörern der Sitzungen verfasst. Darüber hinaus werden, zumindest im 19. Jahrhundert, auch noch wichtige Entscheidungen der Akademie sowie ein Verzeichnis aller an die Akademie gesandten Schriften abgedruckt.
Abhandlungen
Erstmals 1763 erschienene und bis heute gepflegte Reihe von Monografien aller Klassen (heute: Sektionen) der Akademie, die zuerst in Bänden, später dann in einzelnen Heften veröffentlicht wurde.
Publications on the history of the community of scholars