The academy gives outstanding scholars and scientists a networking platform for interdisciplinary, intellectual exchange. As a community of scholars, it offers virtually unmatched opportunities for meetings, dialog and cooperation between stakeholders from different disciplines and research areas.
The members of the community of scholars belong to one of four sections:
Section I – Humanities and Cultural Studies,
Section II – Law, Social Sciences and Economics,
Section III – Natural Sciences, Mathematics, Technology,
Section IV – Natural Sciences, Life Sciences, Medicine.
Membership of each section is limited to 30 ordinary members and 30 corresponding members.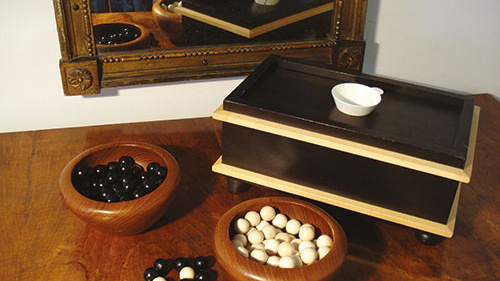 Members are elected by means of a blackballing system.
According to the academy's Statute, the research of its members must have "made a significant contribution to the advancement of knowledge" within their discipline. The academy exercises the right of co-option, which means that scholars can only become members if they are nominated by academy members without outside involvement and solely based on their academic reputation. Scholars may not nominate themselves. The academy makes a distinction between ordinary members and corresponding members. Ordinary members live or work within the Free State of Bavaria. They are the only voting members and they are obliged to take part in the work and meetings of the academy on a regular basis.
The academy currently has 198 ordinary members, 104 corresponding members and 20 extraordinary members as well as two honorary members: Franz, Duke of Bavaria and Prof. Dr. Ing. habil. Ulrich L. Rohde.
See here for a list of all members of the community of scholars.
The academy is home to a universal range of disciplines that has evolved to reflect advances across the full spectrum of the sciences over time. The reform implemented in 2015 overturned the delineation into two classes, which had been in place since its establishment. The members now belong to one of four sections. Section I represents the Humanities and Cultural Studies, Section II represents Law, Social Sciences and Economics, Section III unites the Natural Sciences, Mathematics and Technology, and Section IV combines the Natural Sciences, the Life Sciences and Medicine.
Many well-known researchers and scholars, including a number of Nobel Prize winners, are or were members of the Bavarian Academy of Sciences and Humanities. They include the brothers Jacob and Wilhelm Grimm, Theodor Mommsen, Alexander and Wilhelm von Humboldt, Justus von Liebig, Therese von Bayern, Max von Pettenkofer, Richard Willstätter, Max Planck, Feodor Lynen, Albert Einstein, Max Weber, Werner Heisenberg, Theodor Hänsch and Gerhard Ertl.
Cross-generation dialogue
In 2010, the academy established the Young Academy (Junges Kolleg) to support outstanding young scholars and scientists in Bavaria. The Statute reform implemented in 2015 made them "special members" of the academy, giving them the opportunity to attend section meetings and present their research projects to participants. This initiative actively promotes engagement between up-and-coming scholars and their experienced colleagues.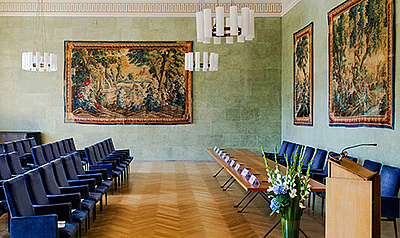 Regular section meetings take place in meeting room 1.
At the regular section and plenary meetings, the members discuss their own or other research findings and submit manuscripts for publication in the academy's two publication series. They also discuss ongoing or new research projects and set up corresponding Project Advisory Boards.