Publications by the academy, its research projects and institutes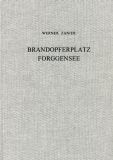 Zanier, Werner; Driesch, Angela von den

Der spätlatène- und römerzeitliche Brandopferplatz im Forggensee (Gde. Schwangau)

Münchner Beiträge zur Vor- und Frühgeschichte

52

3-406-10752-4

BV012861340

1999, Beck, München

202, 46 S.; Ill., Kt.; 4 Beil.

Beiträge: von den Driesch, Angela; Küster, Hansjörg; Tegel, Willy.