Publications by the academy, its research projects and institutes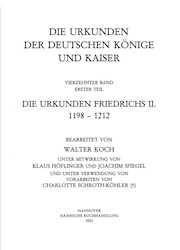 Koch, Walter

Die Urkunden Friedrichs II.

1198 - 1212

Urkunden Kaiser Friedrichs II.

1

3-7752-2001-1

BV014818200

2002, Hahn, Hannover

LVI, 522 S.; Ill.

Der erste Band der Urkunden Friedrichs II. umfasst die Diplome und Mandate vom Januar 1199 bis zum August 1212 und behandelt damit die sog. sizilische Königszeit ab der ersten Urkunde, die Friedrich als alleiniger Aussteller nach dem Tod seiner Mutter Kaiserin Konstanze (November 1198) ausstellte, bis zu seiner letzten Urkunde auf italienischem Boden, kurz bevor er nach einer gefahrvollen Reise vor allem durch Norditalien erstmals deutschen Boden betrat. Die Urkunden dieser Zeit stehen in einer ganz anderen Tradition als jener, die von seinen Vorfahren väterlicherseits, den Staufern her bekannt ist. Es sind die mütterlichen Wurzeln, das sizilisch-normannische Erbe, das aus diesen Urkunden zu uns spricht, sowohl im Layout als auch in der Sprache. Der Band umfasst insgesamt 171 Urkunden und diese gehen nahezu ausschließlich an Empfänger im Regnum Siciliae. Ausnahmen bilden für diese ersten Herrschaftsjahre, die noch keine Verbindung zum deutschen König- und späteren Kaisertum des Staufers zeigen, lediglich Diplome für das Zisterzienserkloster Salem am Bodensee (DD 114 und 115) und Tennenbach im Breisgau sowie Urkunden an Papst Innozenz III. (DD 124, 138, 148–150 sowie D 158 und 159).